My work with X-rays is free from any social connotation, any prejudice or stereotype and often free from gender and ambiguous and eventually the most judgemental free angle from which a person can be looked at.
SIGNS OF THE TIMES
The Royal County of Berkshire Polo Club is honoured to present its first contemporary art exhibition of artists Elena Cecchinato, Ernesto Romano, Peter Mammes and Wendy Campbell-Briggs curated by Christopher Maitland-Walker.

Signs of the Times is a show that looks at present day shifts in contemporary society and explores themes such as inclusion and diversity, climate change and war and displacement. The artists questions are expressed via different materials and executions from sculpture to painting, printing, music and
ceramics. This allows the viewer to interpret and challenge the artworks in their own personal way.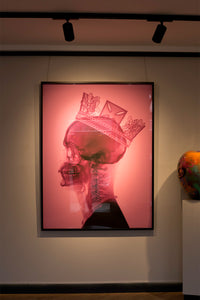 XL ROYAL BLOOD
Going XL with my latest Royal Blood
Giclee print on Hahnemule Photo Rag
Unique Edition in this pink colour
150x113 cm
Now Available At Nova Fine Art in Marlow (UK)